May and September 2022 /

PLEIN-AIR WORKSHOP WEEK IN VOLTERRA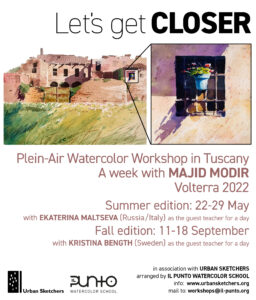 Watercolor sketching retreat in Italy!
7 accommodation days including 5 course & workshop days in medieval town of Volterra located in the heart of Tuscany! 
The topic of this year's workshop is "Getting Closer", lead by visual artist & watercolor instructor Majid Modir and accompanied by a guest teacher for a day.
SUMMER edition: May 22-29 with guest teacher Ekaterina Maltseva (from Russia/Italy)
FALL edition: September 11-18 with guest teacher Kristina Bength (from Sweden)
Find the full Program & Rates HERE , and the Registration Form HERE!
Apply as "Early Bird" by 15th January 2021 to get 10% discount!
*
August 2022 / PLEIN-AIR WORKSHOP IN SWEDISH ISLAND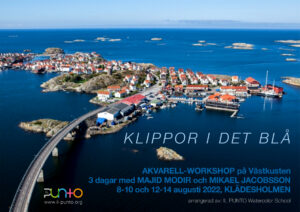 "ROCKS IN THE BLUE"
A creative summer adventure with 2 groups by 3 days each, lead by Majid Modir and accompanied by the guest teacher
Mikael Jacobsson
in the picturesque island of Klädesholmen (Swedish west-coast).
Dates: 8-10 August and 12-14 August 2022
Find the full program as pdf HERE! 
*
April – October / OPTIONAL ONE-DAY WORKSHOPS (ON DEMAND) / TUSCANY

Plein-Air Volterra workshops will be available even as stand-alone program from April to October 2022!
This is a part of EXPERIENCES arranged by PLANTS BASED TUSCANY, which can be combined with other activities as well.
Check out all programs and find the watercolor workshop as PAINTING CLASS (PBT number 7) HERE.