VOLTERRA PLEIN-AIR WORKSHOP WEEK  / SEPTEMBER 12-19th 2021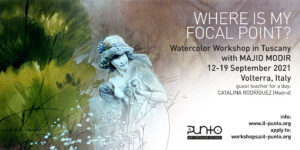 The topic of this year's workshop is: "Where is my Focal Point?" lead by visual artist & watercolor instructor Majid Modir and accompanied by Catalina Rodríguez (from Madrid) as the guest teacher for a day.
Find the program and rates HERE!
*
OPTIONAL ONE-DAY WORKSHOPS (ON DEMAND) / TUSCANY

Volterra workshops will be available even as stand-alone program from April to October 2021!
This is a part of EXPERIENCES arranged by PLANTS BASED TUSCANY, which can be combined with other activities as well.
Check out all programs and find the watercolor workshop as PAINTING CLASS (PBT number 7) HERE.