WATERCOLOR WEEK AT SWEDISH ISLAND
/ 2 SESSIONS BY 3 DAYS IN AUGUST 2024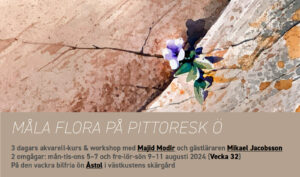 "PAINTING FLORA ON PICTURESQUE ISLAND"
As for the 6th annual edition of watercolor course + workshop, we are going to have a summer adventure in the little island of Åstol located at the Swedish west coast. This time we focus on the flowers & vegetations (among other studies), as both pein-air and in the studio.   
Guest teacher: MIKAEL JACOBSSON
Save the dates 5-7 & 9-11 August 2024 and read about the program & the rates as PDF    in ENGLISH   and   in SWEDISH!
EARLY BIRD REGISTRATION WITH DISCOUNT BEFORE 31 DECEMBER 2023
Mail to: workshops@il-punto.org 
*
PRIVATE MASTER CLASSES / WATERCOLOR LESSONS ON DEMAND BY MAJID MODIR IN VOLTERRA / TUSCANY OR YOUR HOMETOWN!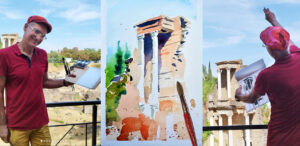 LET ME BE YOUR PERSONAL WATERCOLOR INSTRUCTOR!
"Tailor Made" class based on your needs & wishes, in 2-5 days for 1-3 persons. 
For more information please send a mail with your requests to: workshops@il-punto.org